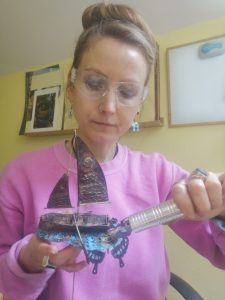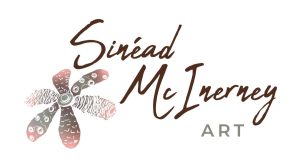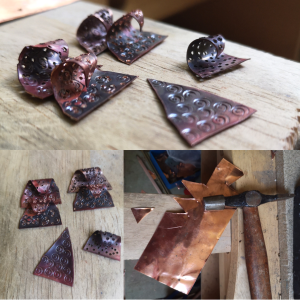 Pictured here, Sinead McInerney working on her beautiful boat sculptures, read on to find out more about Sinead and her creative process…
I am an Artist based in Warrenpoint, Co. Down. I make metal sculptures inspired by my love for all things flying, from biplanes and jet planes to satellites and rockets.
Fascination with flight…
This fascination with flight began during my final year at NCAD, Dublin when I had the opportunity to visit the hangars at Dublin Airport. I was completely awed by the sheer scale and craftmanship of the planes. Seeing them up close and stripped back awaiting repair allowed me to see them in a new light. I wanted to capture the vulnerability and fragility, that I sensed from them, in my work. It led me to create work that I see as a celebration of man's achievements in the pursuit of flight. I feel that sense of wonder about taking to the skies has been lost and I try to recreate that with my sculptures. Each piece is unique and has it's own personality.
I like to offset the mechanical aspects of the subject by drawing on influences from nature such as birds, plants and the sea. Since moving to Warrenpoint, which overlooks the beautiful Carlingford Lough, I have found myself being even more influenced by the sea. It was the inspiration for my piece 'Seaplane' and also what sparked my new venture into boat sculptures, which I'm very excited about!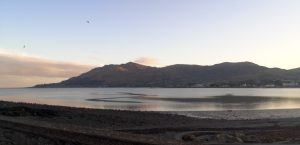 A sky as pure as water bathed the stars and brought them out.
Antoine de Saint-Exupery
Living artwork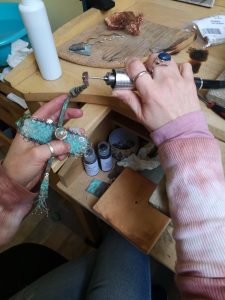 I work in copper, brass, small amounts of silver and occasionally I incorporate found objects like driftwood. I have a huge love for copper in particular the thin sheets that I work with. Some of these sheets have been recycled from old copper plaques that my mother had gifted to me many years ago as they couldn't be used due to faults. I love having this connection to my now deceased mam through my work and it makes me very happy to give new life to the copper. No metal gets wasted with me! I love experimenting with metal, using heat and hammers to create new textures and colours.
Detail is very important in my work and I love to add many layers of it so that there is always something new to see in my work, depending on the angle it's viewed from. As well as colouring the metal using heat, I like to speed up the natural weathering process of copper by creating homemade patinas using ammonia, salt and vinegar.
Discovery through exploration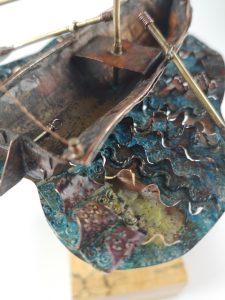 This creates the beautiful blue or green shades and is a fun process as you can never really be sure what you will get. I work intuitively with the metal often allowing it to lead me in directions I hadn't planned for, be it through mistakes (happy accidents) or simply discovering a new texture or pattern during the process that changes the course of the piece. I feel very grateful to be able to work in this way and to be creating work that I am passionate about.
To visit our collection of stunning copper sculptures curated by Sinead click here
A selection of work by Sinead McInerney